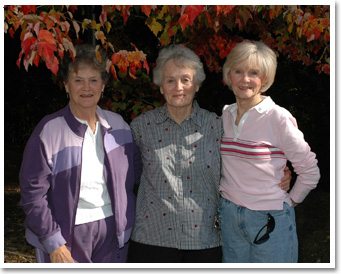 Sisters Making a Difference
What do volunteers Elizabeth Bradberry, Barbara Dudley and Ellen Woods have in common?  They are sisters who delivered Meals on Wheels every week in Abbeville.  They have been delivering meals for a combined total of over 10 years.

"I love getting to know the people we deliver to and feel very close to them," says Elizabeth.
Elizabeth, Barbara and Ellen live right next to each other in Abbeville and see each other all the time. "We couldn't live without each other and are very close," says Ellen.  Elizabeth lives in the house they all grew up in and adds they have another sister who lives in Orangeburg.

Between the three sisters, there are 10 children, 24 grandchildren and 14 great-grandchildren.  They love to all get together when they can but add its hard when there are so many of them and they are all spread out all over the country.

The sisters take turns delivering on Mondays and Wednesdays and have 11 clients on their route.  "Knowing you are helping others and making a difference in other people's lives is a wonderful feeling," says Barbara.  "We love volunteering!"  
      
Thank you ladies for your dedication and service to Meals on Wheels.  We really appreciate all you do!