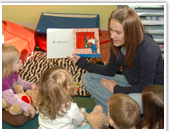 Offering an exciting alternative to traditional childcare, Lifetime Discoveries is an Intergenerational Daycare program housed as a full-commercial childcare center. Lifetime Discoveries is located within the same building as the Greenwood Senior Center. We provide structured, staff supervised activities for the children and seniors including art, gardening, exercise and music. Both children and adults truly benefit from this time together.
The building is beautifully decorated with a home-like atmosphere, making the transition from home to daycare a little easier for your child. It also offers spacious classrooms along with lots of windows and skylights. Hallways are painted with bright, cheerful murals.
Our staff is trained in Child Growth & Development, Curriculum Activities, First Aid and Child/Infant CPR. The staff also believes in a high level of parent – teacher communication and welcome questions, comments, and concerns to help us meet your child's needs.
Lifetime Discoveries curriculum encourages creativity and learning. Children are exposed to a variety of opportunities through structured, educational activities that promote self-confidence and a respect for others, as well as their environment.
For more information about the center visit our website at www.lifetimediscoveries.org.